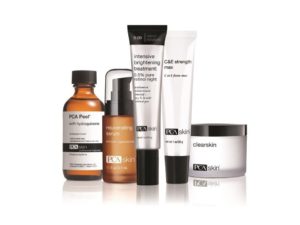 PCA SKIN® Products
Healthy skin born from science.
Andrea's Skin Care is excited to carry the advanced and highly effective skin care product lines from PCA SKIN®. PCA SKIN® offers uniquely formulated products with one goal – to improve the health of your skin. For 25+ years PCA SKIN® has been a leader in healthy skin, basing all of their product development on product innovation, excellence in education and unparalleled customer support.
PCA SKIN® has been and continues to be a trusted innovator in the development of highly effective professional treatments and daily care products. Our vision is to improve people's lives by providing results-oriented skin care solutions that are backed by science for the health of your unique skin.
At Andrea's Skin Care, we carry multiple PCA SKIN®product lines. Come into our Andover, MA spa and shop from the following lines: