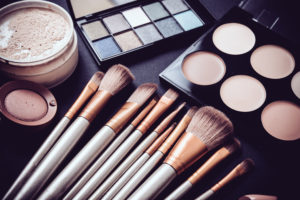 Best Makeup Application in Andover Massachusetts
Whether for everyday wear, or a special event such as a wedding, prom, or an evening out, Andrea's professional makeup artists will create a look that is right for you. We offer on-site makeup application and also provide personalized makeup lessons, complete with takeaway chart.
Professional Makeup Services
Our professional makeup services include a custom makeup application session where we will match your skin tone to the perfect foundation shade, identify the right corrector and concealer, show you how contouring and highlighting can maximize the beauty of your features, and will top things off with lip and eye makeup that makes you look vibrant and beautiful.We also offer customized professional makeup applications for teens and makeup lessons on how to apply makeup correctly for every day use.
Makeup Application $65
Teen Makeup Application $50
Makeup Lesson $85
Bridal Makeup Services
For your "big day," it is important to find a bridal makeup artist that understands your personal style and comfort level. At Andrea's, we believe you want to look like "you" on your wedding day, only perfect and polished. In our salon or at your home, our professional makeup artists will help you create the special look that will last in your memories and photographs for years to come.
Bridal Makeup Application Priced By Request
Bridal Party Makeup Priced By Request