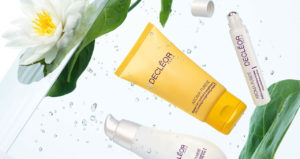 Decleor
Nature is the essence of pure beauty.
Every Decleor product is formulated to be 100% natural and botanically based, curated to bring unity between nature and your skin, body, and mind. Renowned for more than 30 years, their products are in demand worldwide.
Decleor is known as one of the pioneer brands to combine aromatherapy and skin care, blending nature's purest and most healing scents with scientific advancements in skin care. Decleor's skin care products offer a unique art of beauty based on active ingredients and the power of essential oils. Decleor is:
'Dedicated to a holistic approach to skin care and wellness [providing] skin care solutions that are focused on naturability (an ingredients natural characteristics and uses), efficacy and quality.'
We are proud to carry Decleor products at our Andover, MA spa. Come in and shop the healing aromatherapy based creams, cleaners and lotions or contact us to learn more about how Decleor can help you renew, rebalance and reenergize your face and body.